The 1967 Firebird is a muscle car designed by Pontiac. The two-door car is available as a sport coupe and as a convertible. The car comes in five models: the base model Firebird, the Firebird Sprint, the Firebird 326, the Firebird H.O. and the Firebird 400.
1967 Firebird 400
Power
The Firebird 400 is named after its 400 cubic inch displacement. The V-8 engine has a bore of 4.12 and the piston's stroke is 3.75 inches. The compression ratio is 10.75:1. This engine can produce 325 horsepower at 4,800 rpm and 410 foot-pounds of torque at 3,400 rpm. To keep speeds down, Pontiac had installed a device that did not allow full throttle. Performance enthusiasts quickly learned that this could easily be removed, instantly adding 25 hp to their new Firebird, creating 350 horsepower. Accelerations 0-30 mph….2.5 secs. 0-45 mph….4.7 secs. 0-60 mph….6.2 secs.
Dimensions
The 1967 Firebird is 188.8 inches long and has a 108.1-inch wheelbase — a length to wheelbase ratio of 1.75:1. They are equipped with 14-inch diameter wheels and an 18.5-gallon fuel capacity. The sport coupe Firebird 400 has a curb weight of 3,328 pounds. The convertible model has a curb weight of 3,620 pounds.
Brakes and Suspension
Independent suspension, consisting of upper and lower control arms, smooth out the roads from the front end of the Firebird. From the rear, a single-leaf Hotchkiss Drive suspension with rear springs lend a hand. 11.12-inch front discs and 9.5-inch rear discs handle braking duties for the 400.
Production Numbers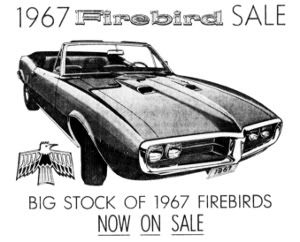 Total Units: 82,560
400: 18,632 
Covertible: 15,528
400 Convertible: 3,658
View Bob's '67 Firebird 400 Convertible Specs and Options Here
Visit Bob's Personal Flash Web Site Here For More Firebird Historical Info, Video, Restoration and Car Show Photos
Main Source: Martin Cole, eHow.com